Hey Sassy fam,
I know its been sometime since I have written about what's really happening in my life.
Well the last thing that I remember posting here was about my #50shadesoflips challenge.
Any way, coming back to the blog, If you guys are following me on social media, you guys will know that I travelled lately to Thailand. Koh samui to be precise and damn,,,, such a pretty island I must must say. And yes, I did wear some easy breezy beachy outfits with really cool jewellery and comfortable footwear.
I am super excited to share all my looks with you so that you guys know before hand what to wear in koh samui but before I do that I would really like to go bit in details of my travel so that Just in case if you guys are planning koh samui too, you will just have an easy way out ( You can thank me later man ). So yes the planning bit started like two months ago and I am so glad that after days and days of exploration , I finally managed to get some really cool deals, all thanks to SKYSCANNER. Yes, I have been relying on this app for quiet sometime and it always always works besssshhhttttt for me. Infact we also booked our property Through skyscanner and saved few pennies. By the way guys, There is no direct flight to koh samui from India so we had a 4 -5 hour layover at the changi airport, Singapore . We were flying Singapore Airways from India, which was quiet comfortable in terms of Food, Drinks or even The in-flight entertainment. From Singapore, we had booked Silk air which is relatively a low cost & smaller airline. But mind you not bad at all! Also it takes around 11-12 hours approximately to reach Koh Samui from New delhi ( 5 hours to Singapore from delhi + 4/5 hour layover + 2 hours to kohsamui ).
So these were my flight details which might come handy to you in case you plan to travel. You can drop in your questions in the comment section below, I would totally love to answer them. In the meantime, let me get back to the point of writing this piece. I so wanted to compile all my looks so that it is just easier to look at. I tried my best to add a different flavor to each day. So yes each outfit / look has a special feel to it. Do let me know your favourite looks out of the lot !
DAY 1: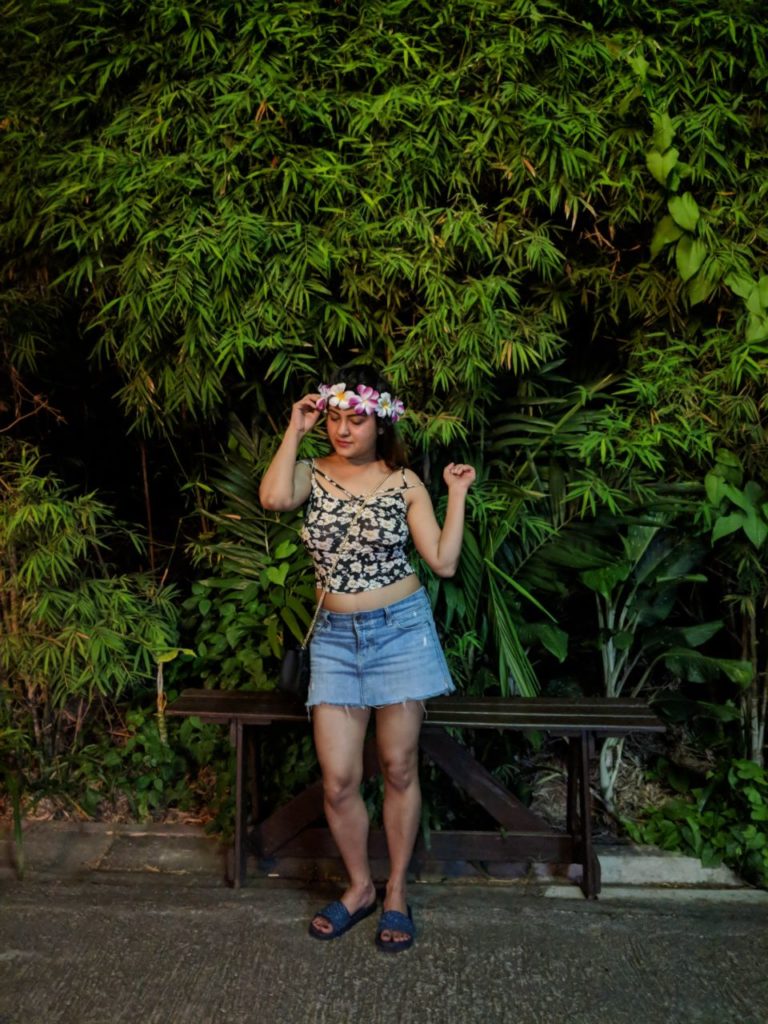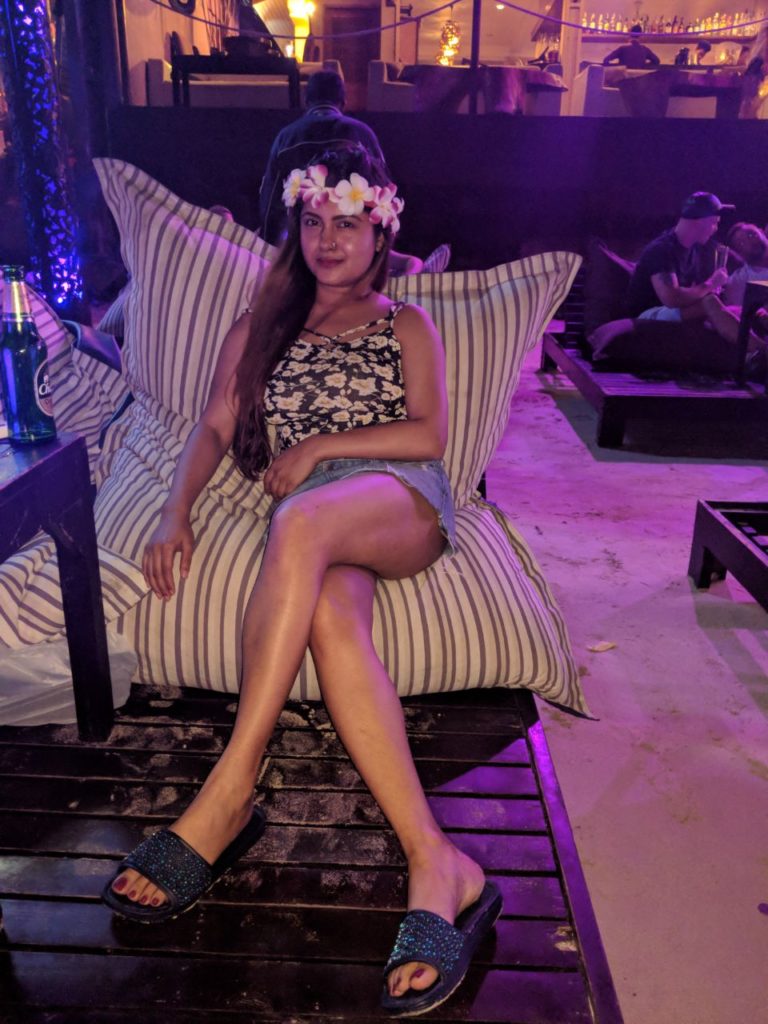 So this was actually the first night in Koh samui and I wanted to keep it casual so that I could understand the vibe of the place before actually dressing up. The black flowery top is from Shein & it has criss cross in front as well as back. Wore my denim skirt which i picked from sarojini nagar and Crocs to go with it.. Most comfotable slip ons ever.
DAY 2: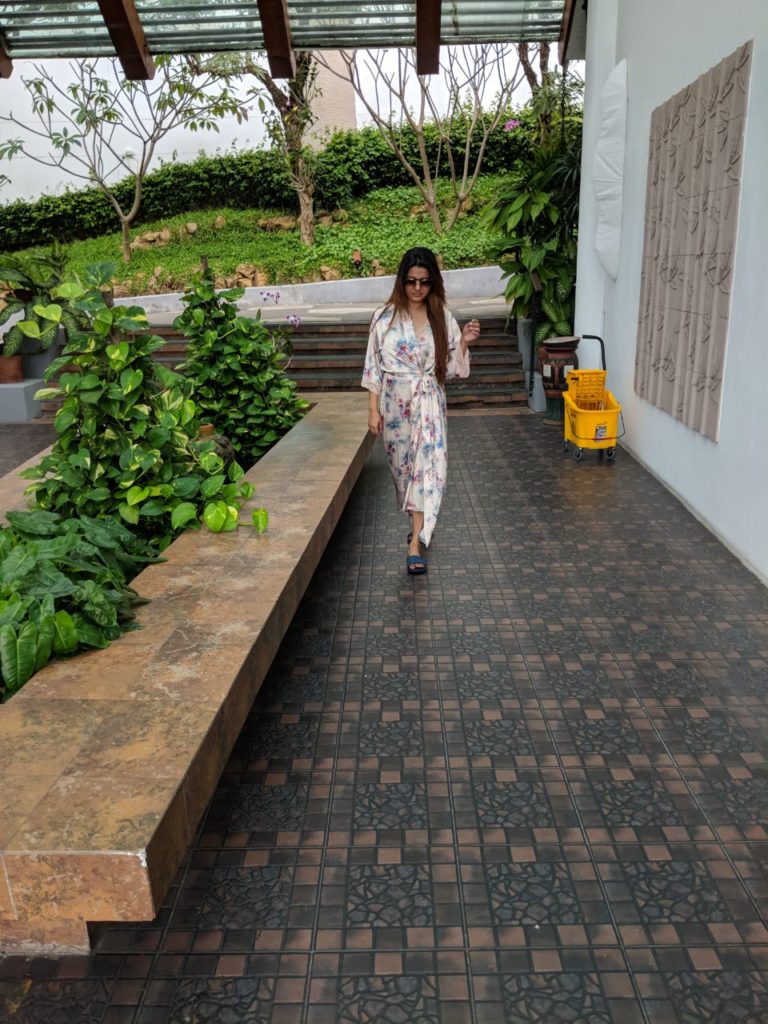 I also carried this night wear. Its a prettiest pink with flowers all over it and it is satin. It also has a robe which Just made it so much easy for me as I could wear it even while going for the breakfast.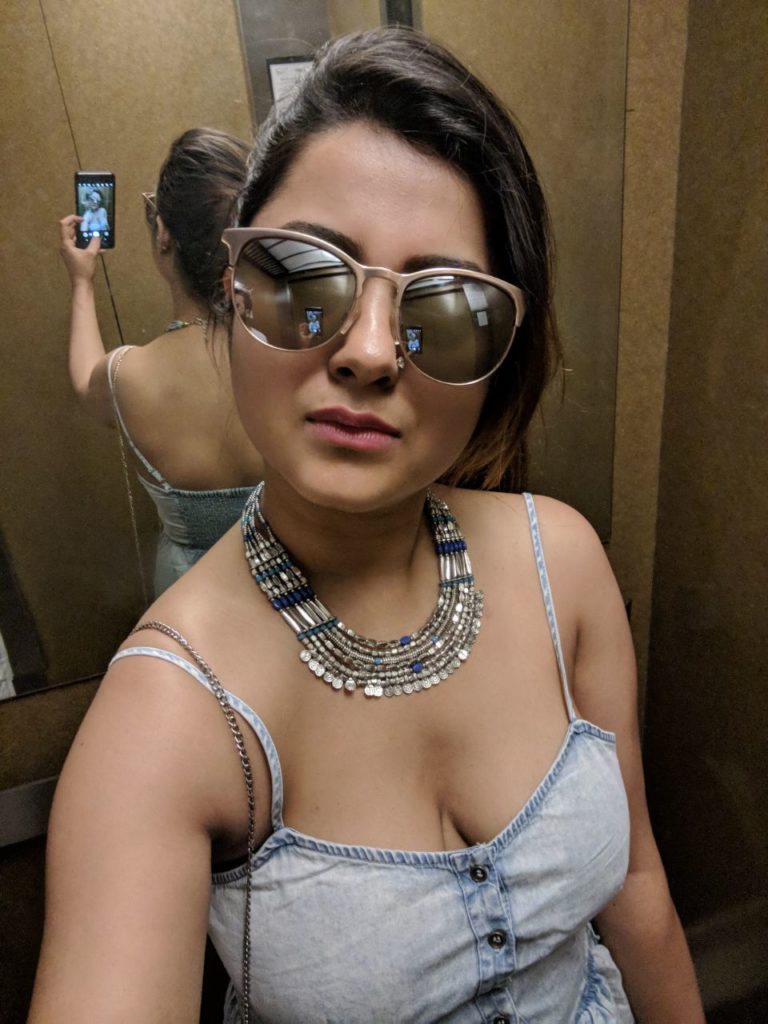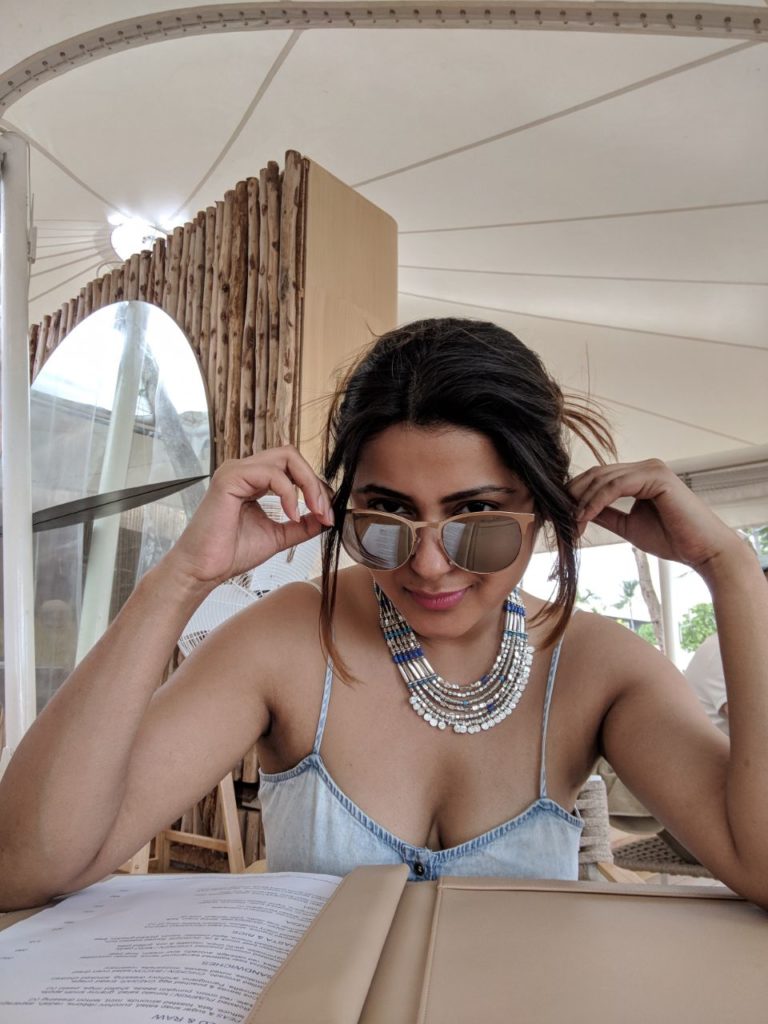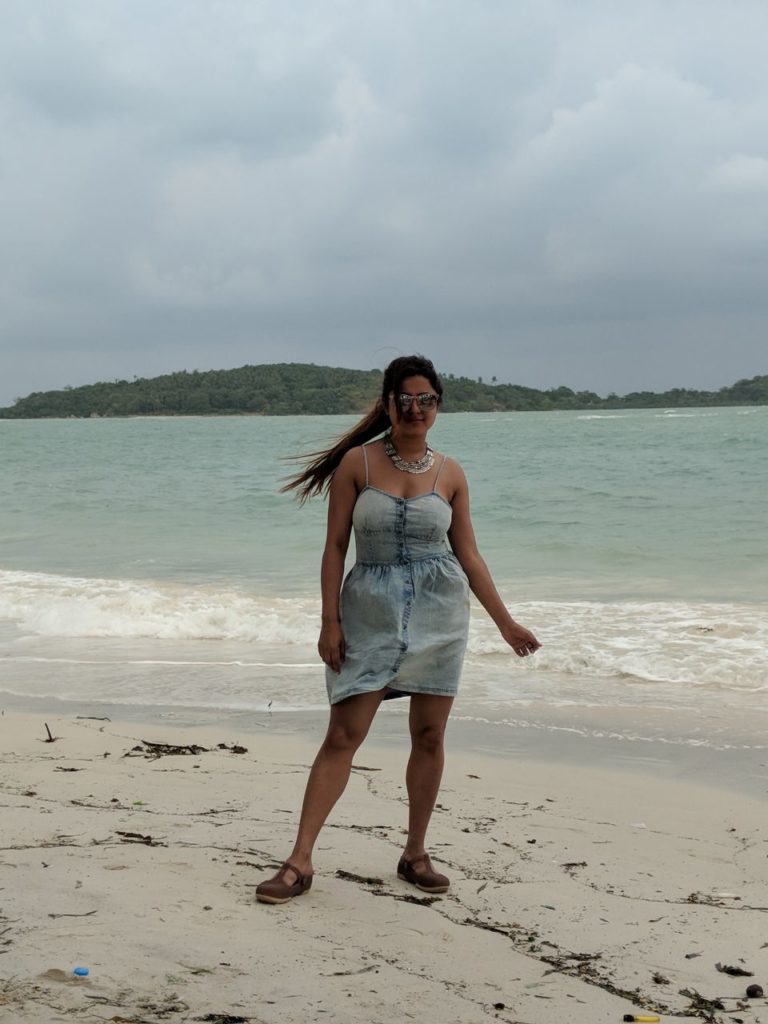 The denim dress is from Forever 21  and my shoes are the classic clogs from Crocs. One thing which really really made this look stand apart was my neckpiece . I mean just look at it… It is super pretty. Picked it up from Ayesha accessories.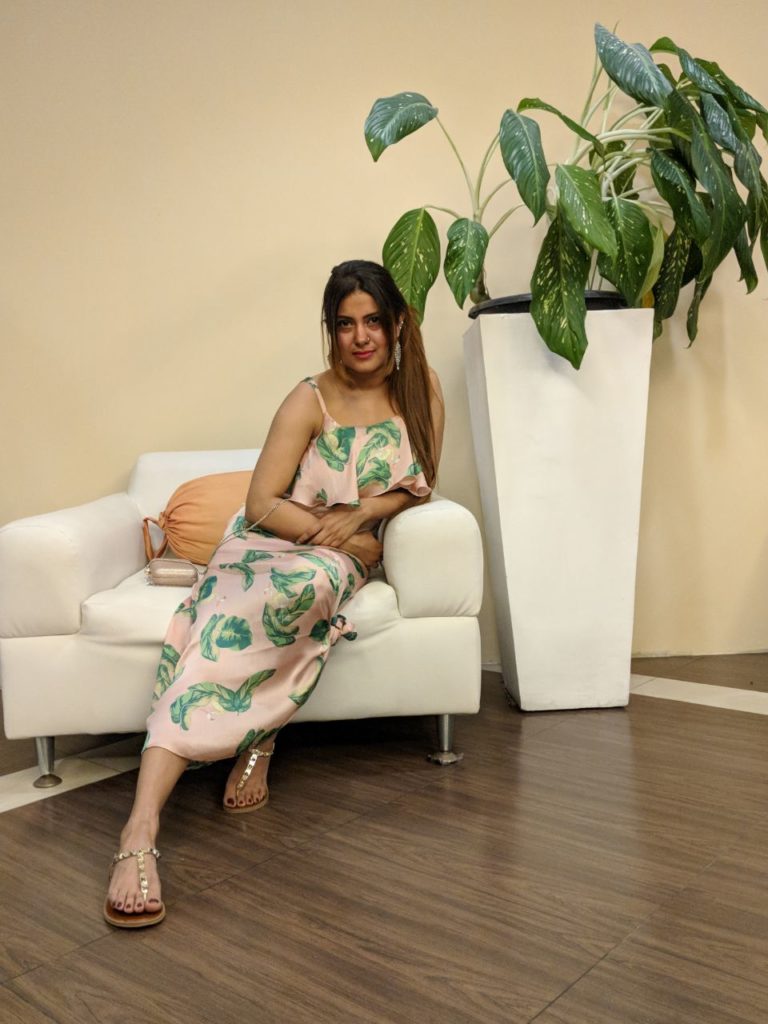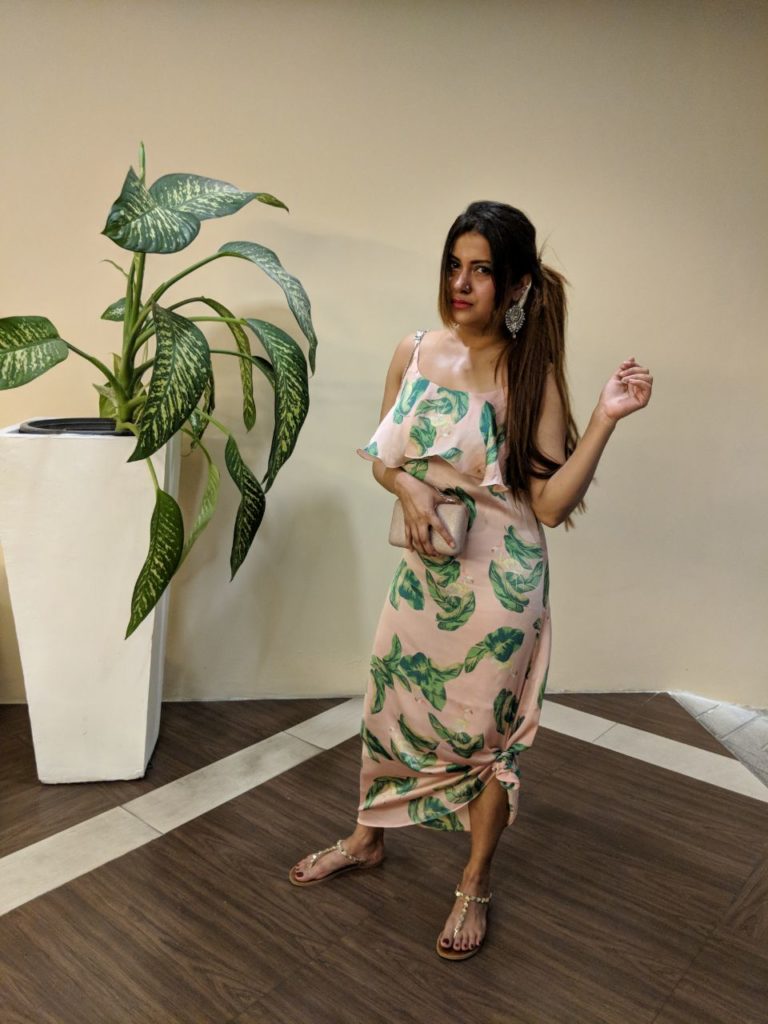 I wore this gown during night. loved the cut and the flow of it, did a knot on one of the sides at bottom and paired it with the gold slipons. The gown is from the Naomi Code and the slips are from shoe tree, Khan market.
DAY 3: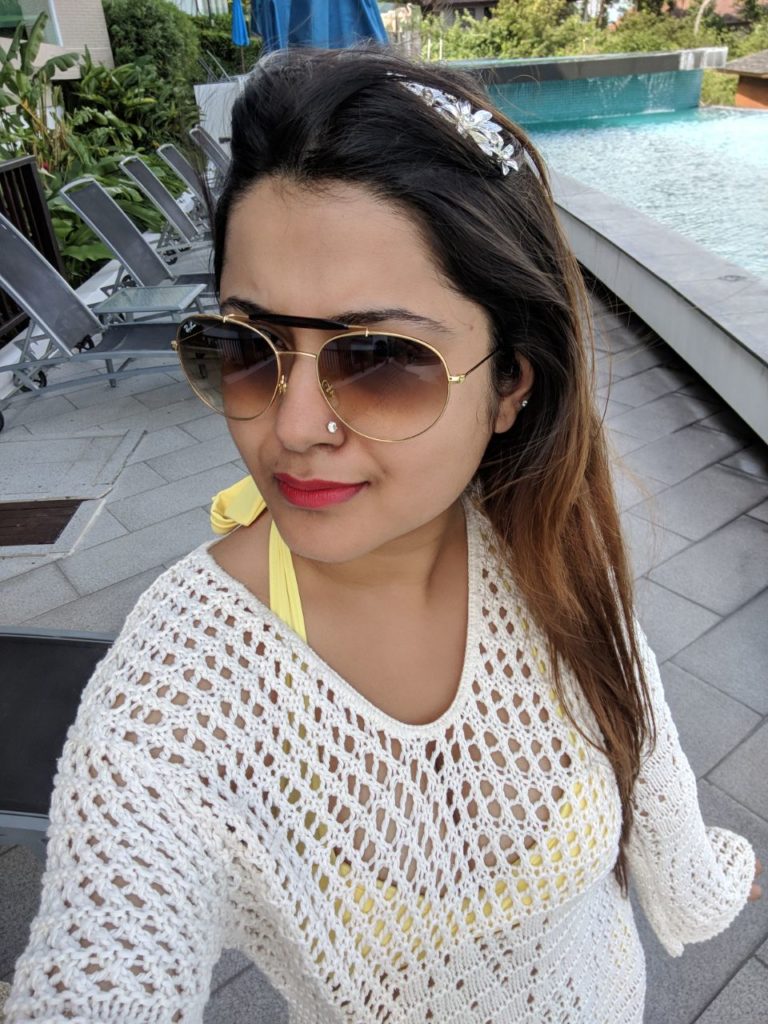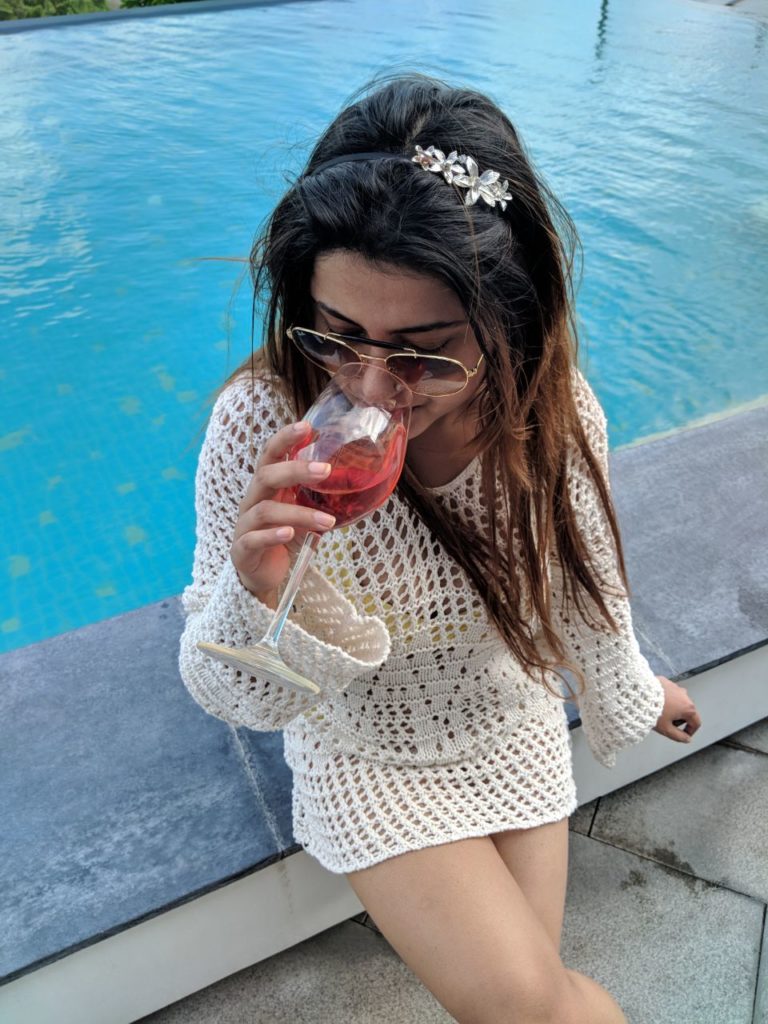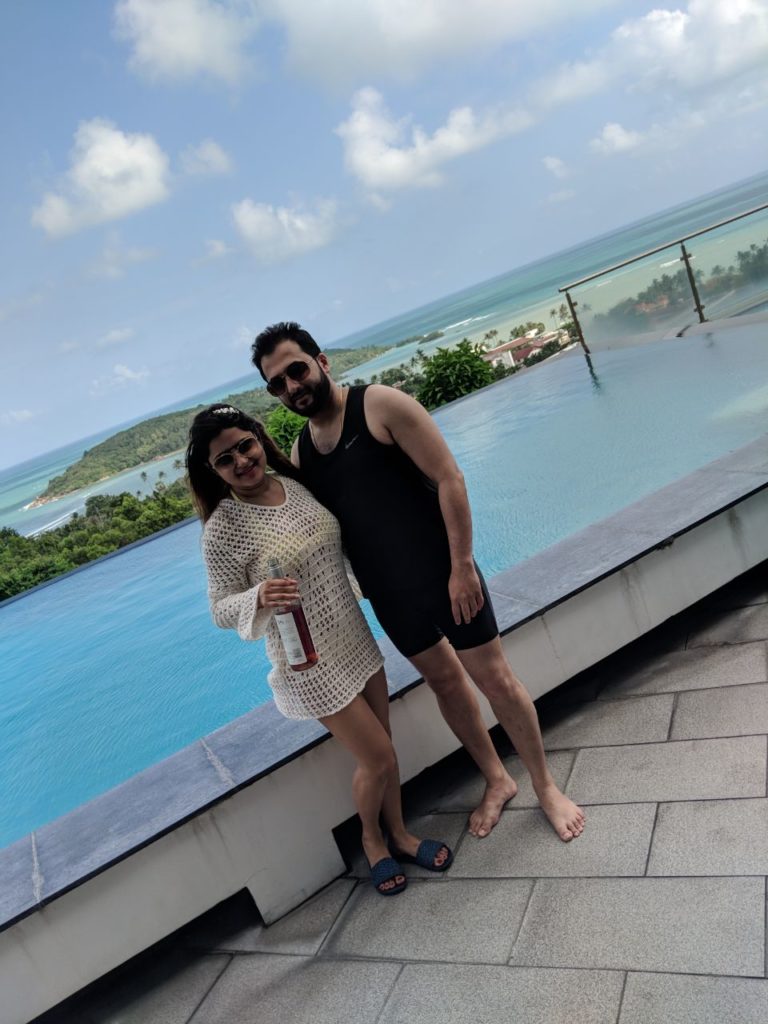 Can you believe this Bikini coverup I picked up from sarojini nagar for Rs 200…So it played a really important bit as I dont really know how to swim , but wanted to wear a bikini but not wanting to pose in a bikini but still get clicked in a bikini… LOL
Any way, I made sure that I do enjoy being next to pool and get some good shots for you guys with my all time favorite Rosé by Fratelli. Can you believe I actually carried it with me all the way to Koh Samui ? Also not the forget the headband is Again a pick from Ayesha accessories.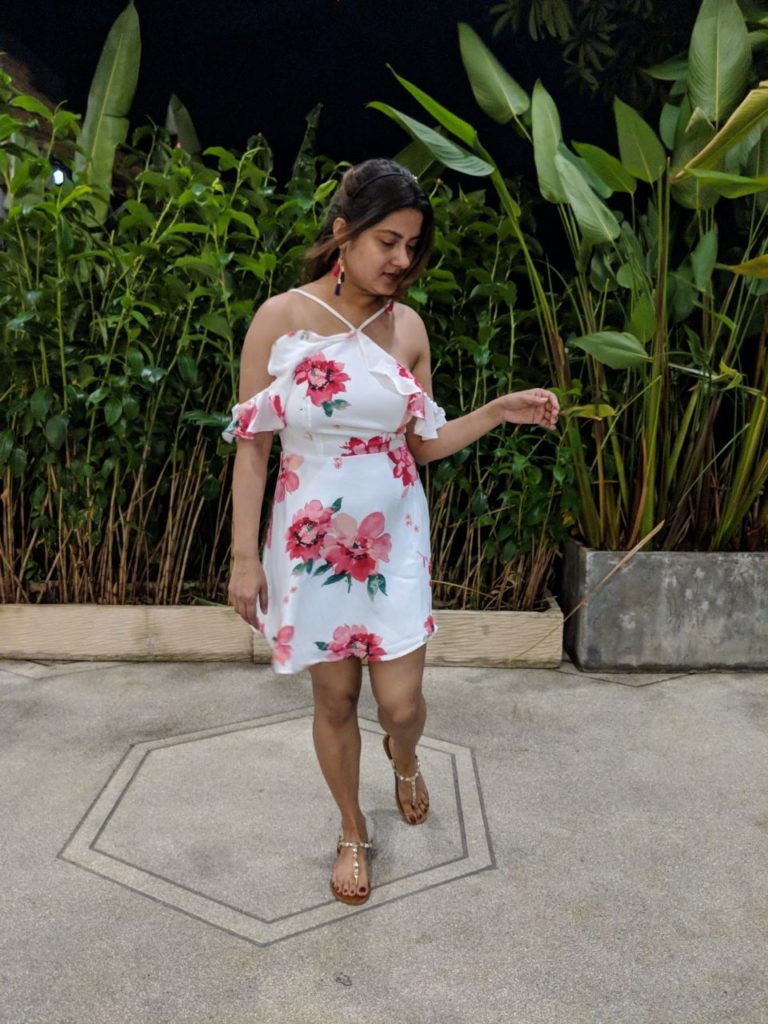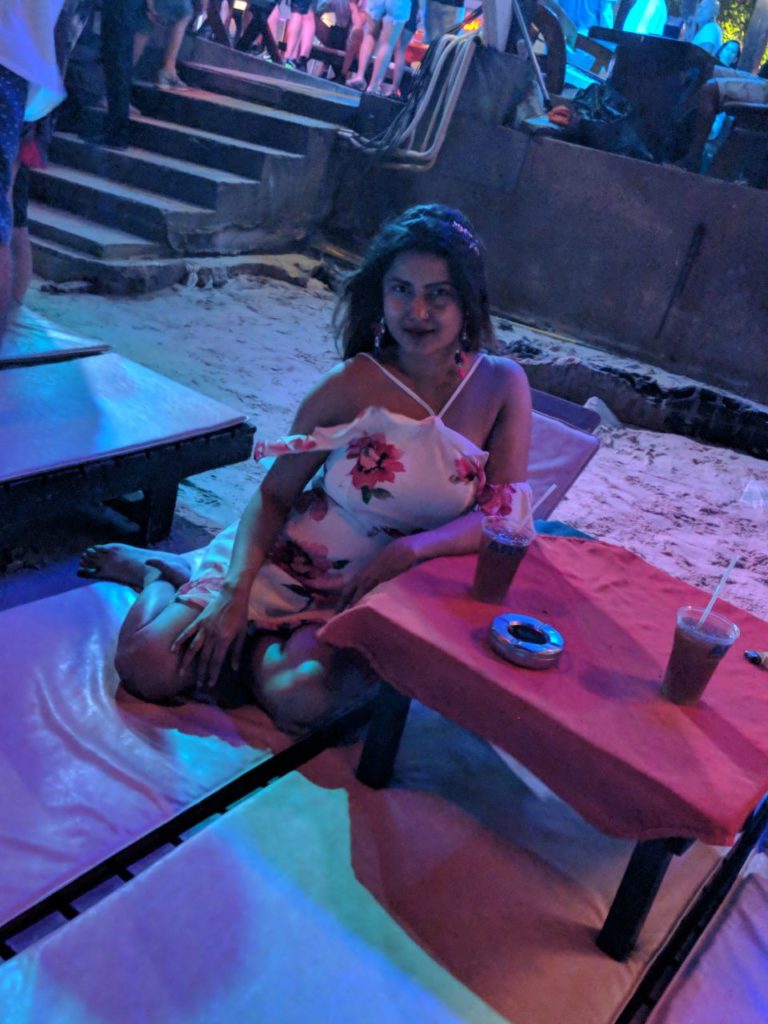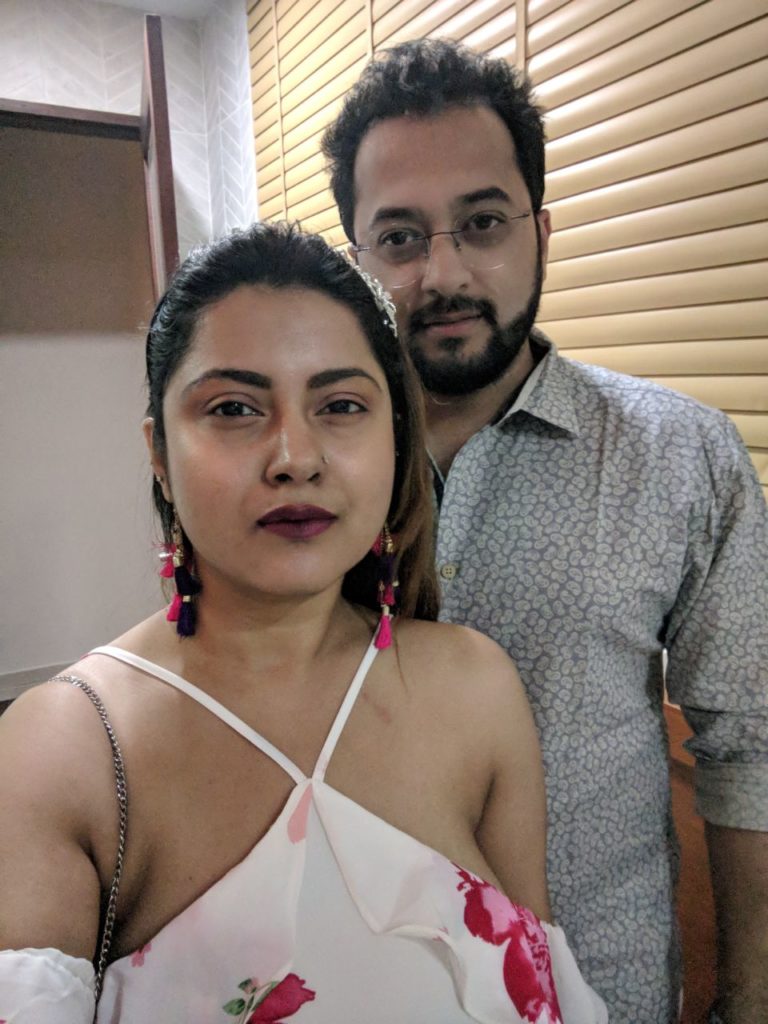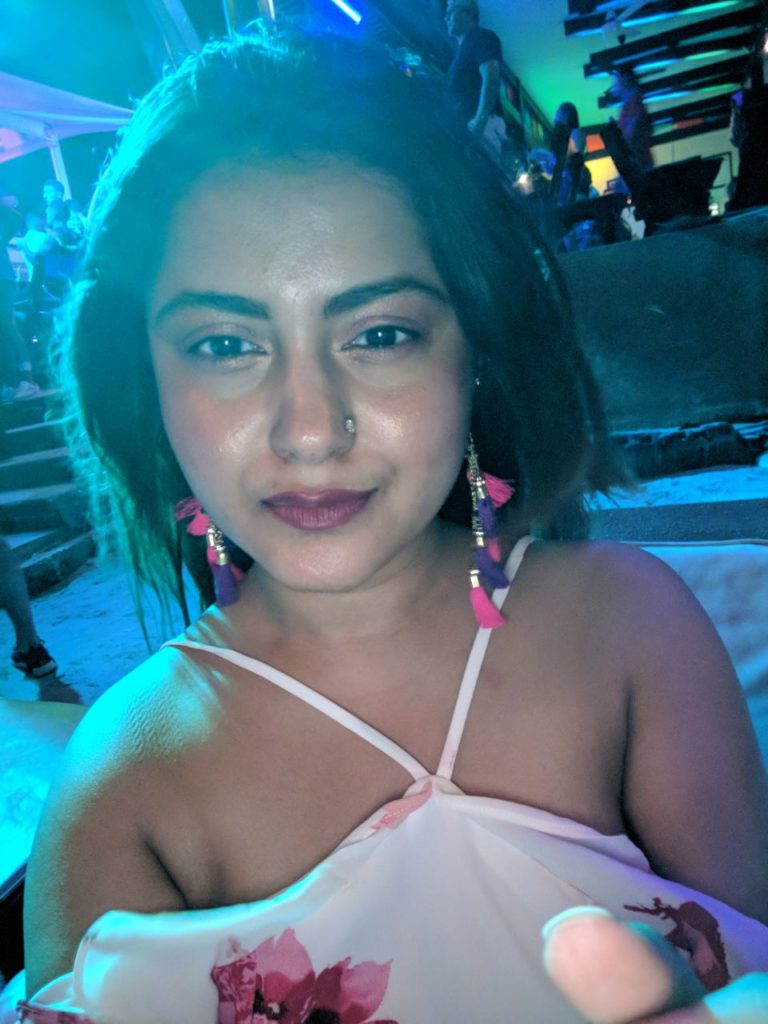 Flowy cold shouder with an interesting neck this dress is from forever 21. The earrings are from ayesha accessories.
DAY 4: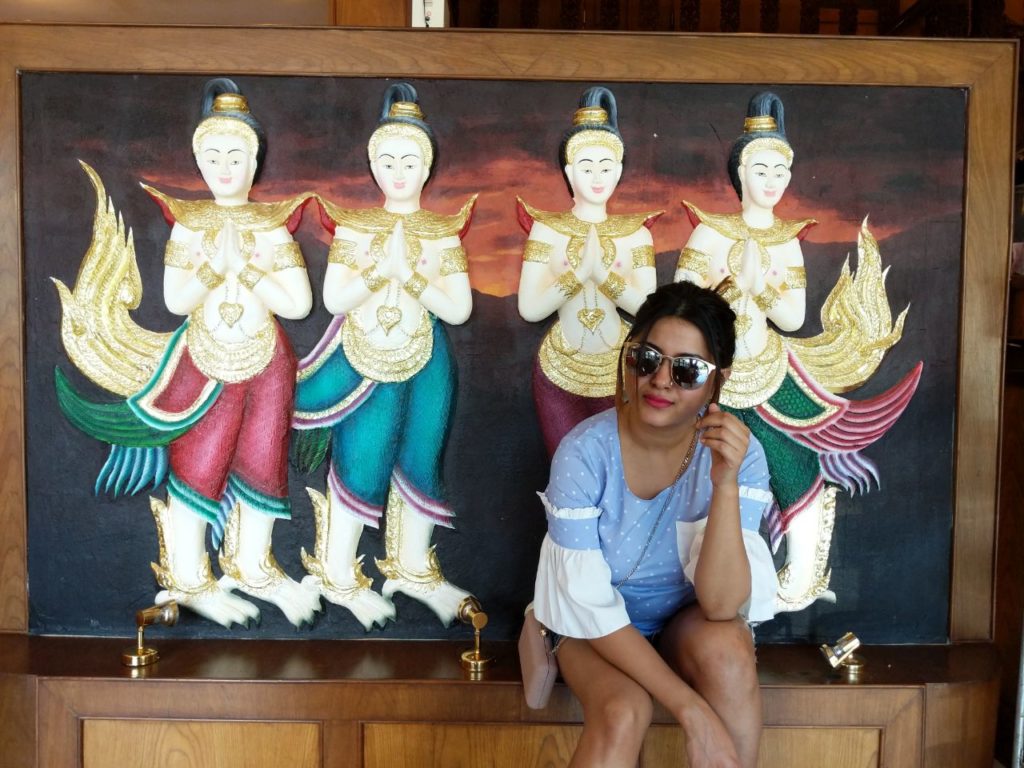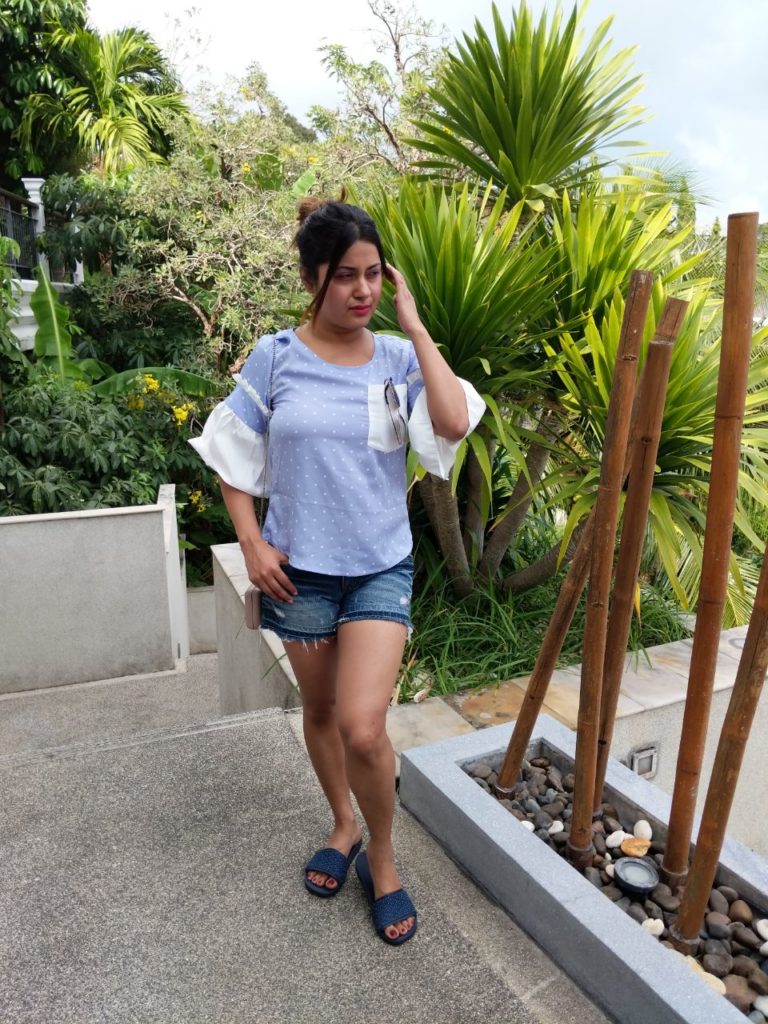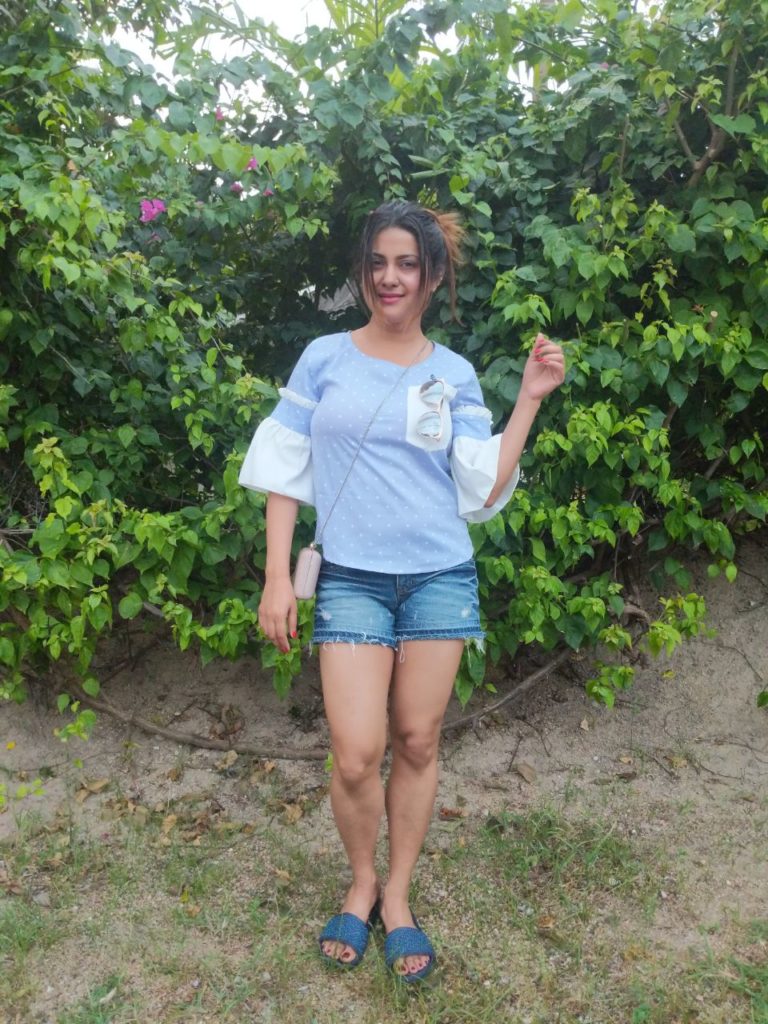 White and blue top with polka tops and bell sleeves, The world seems cutes when you wear tops like these. This is from Naomi Code and the hot pants are random pick from Sarojini. Slip ons are from Crocs.
DAY 5: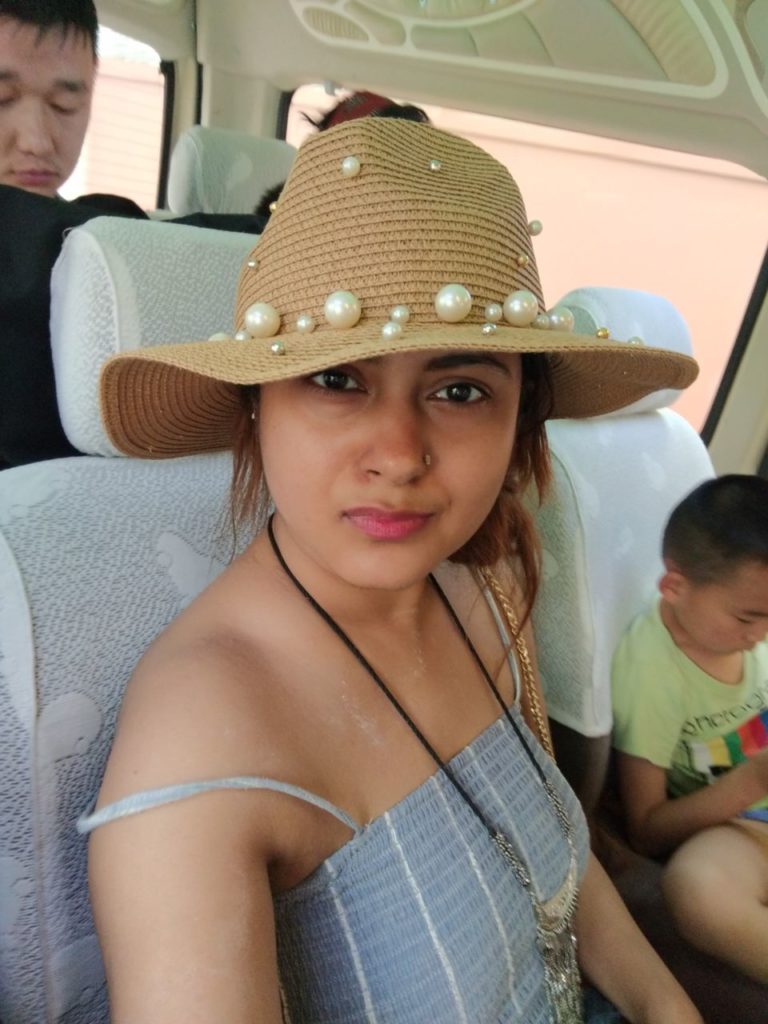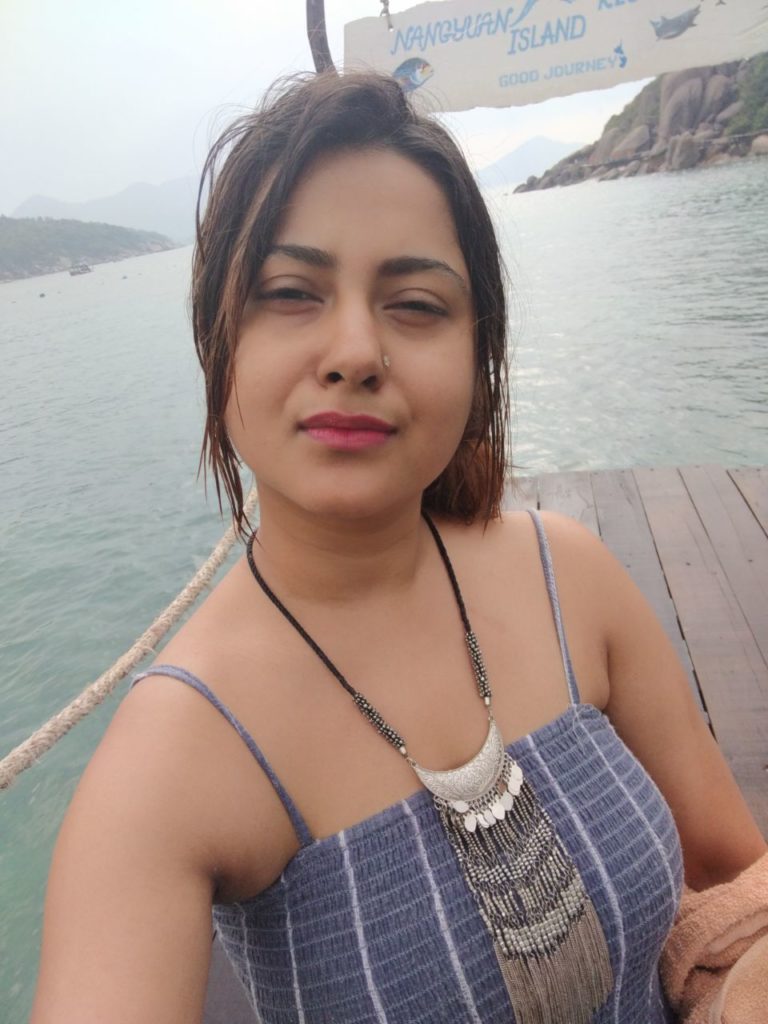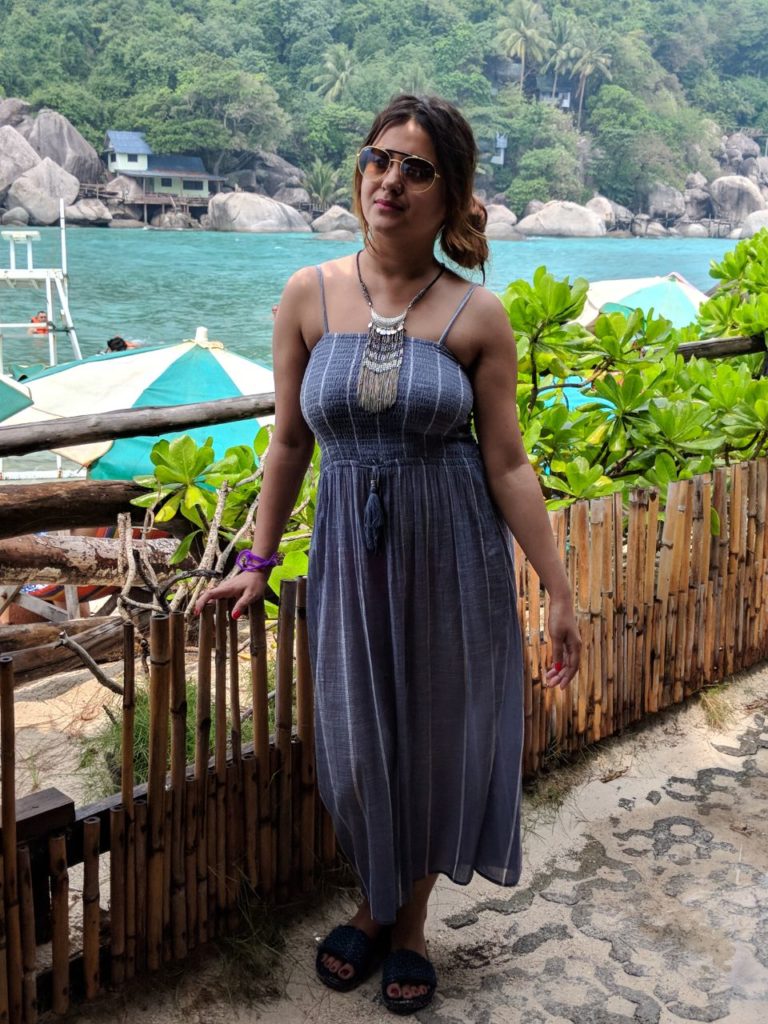 Since we were going to visit two more islands, Koh nanyuan and koh tao and we were travelling by the speed boat, I  made sure to carry a hat which is from shein and wear a really light weight cotton dress from marks and spencer, added a bit of funk by wearing an afghani style neck piece from Ayesha accessories and slip on from crocs.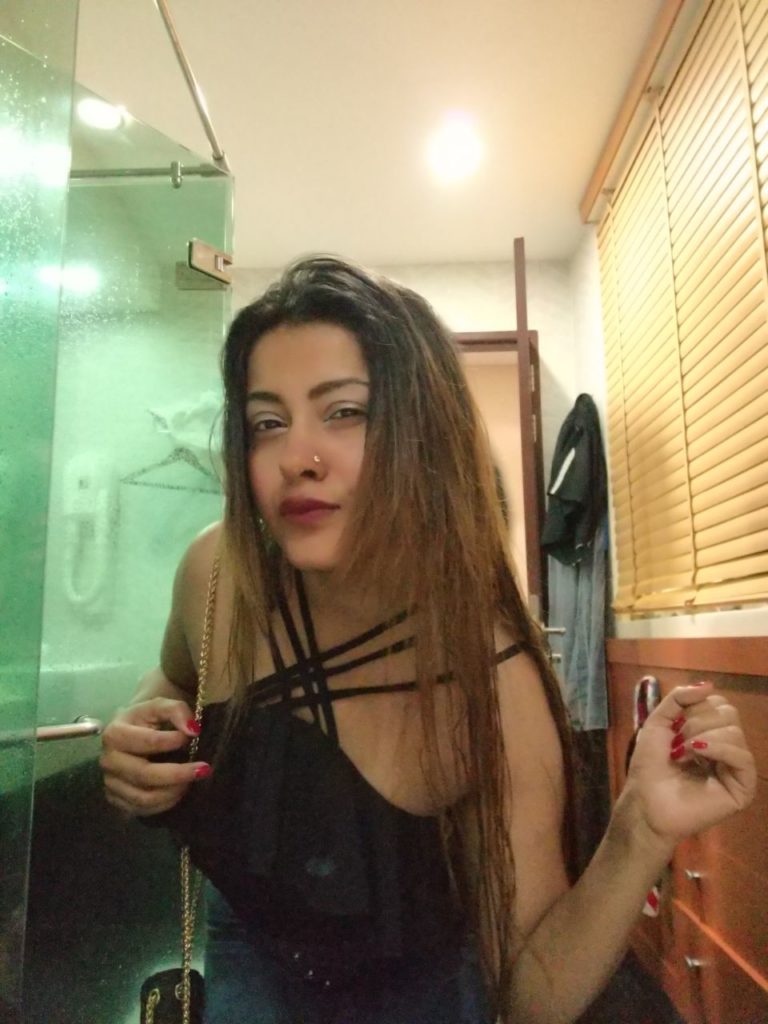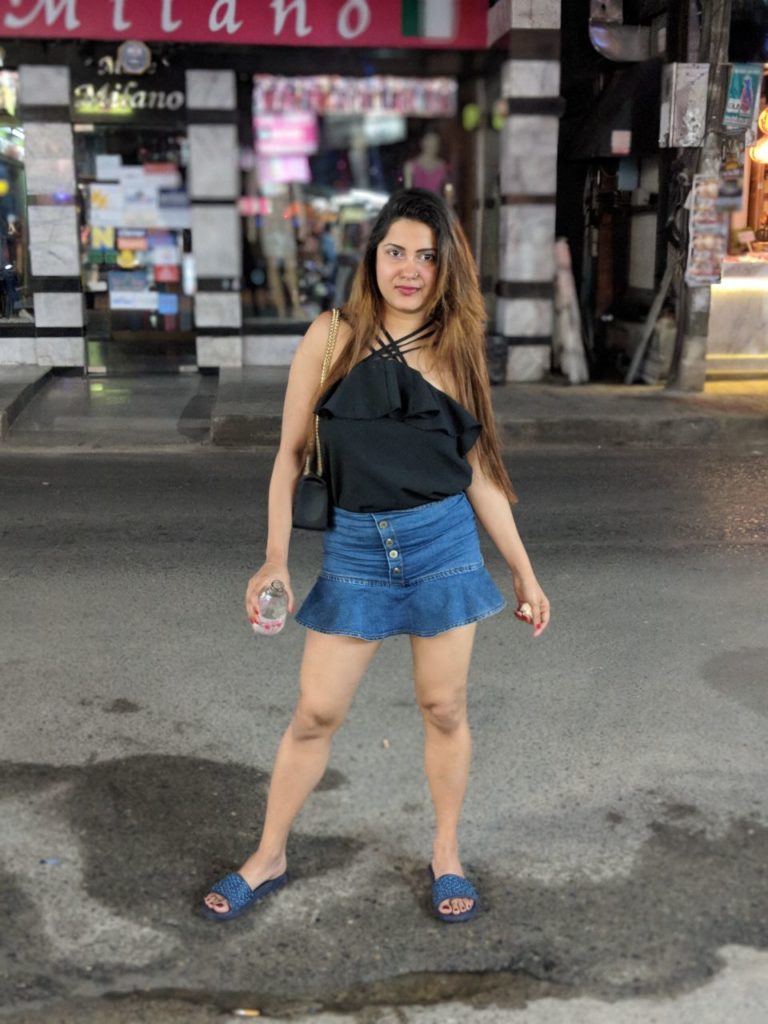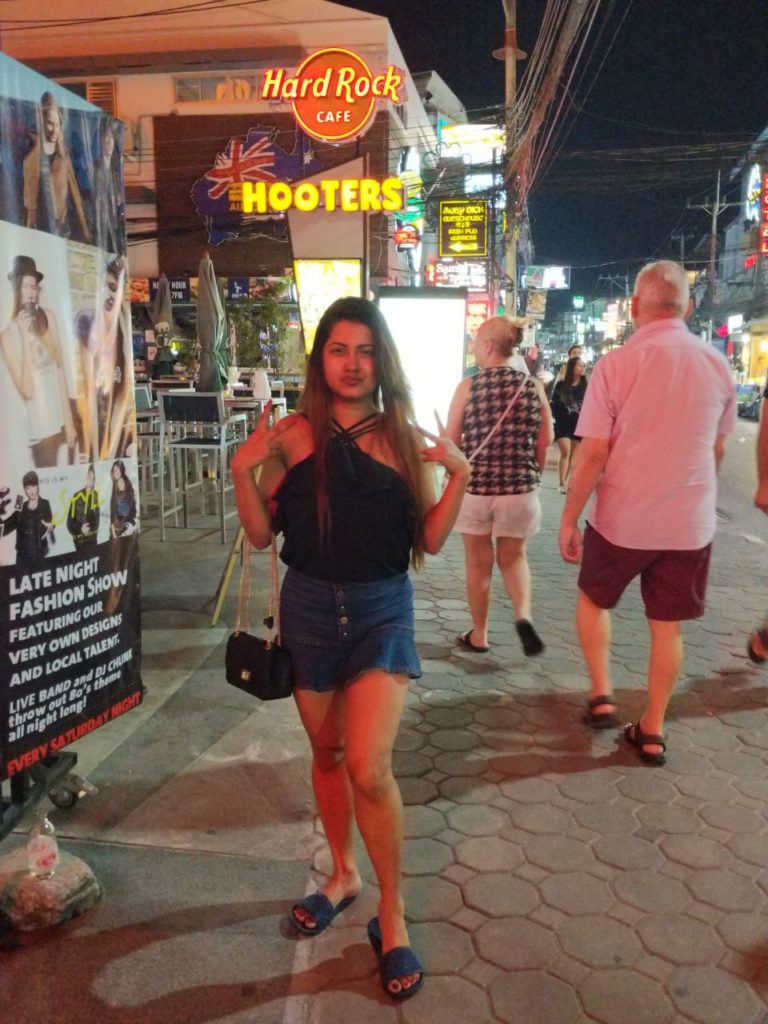 Black frilled top with frilled front buttoned denim skirt !
DAY 6: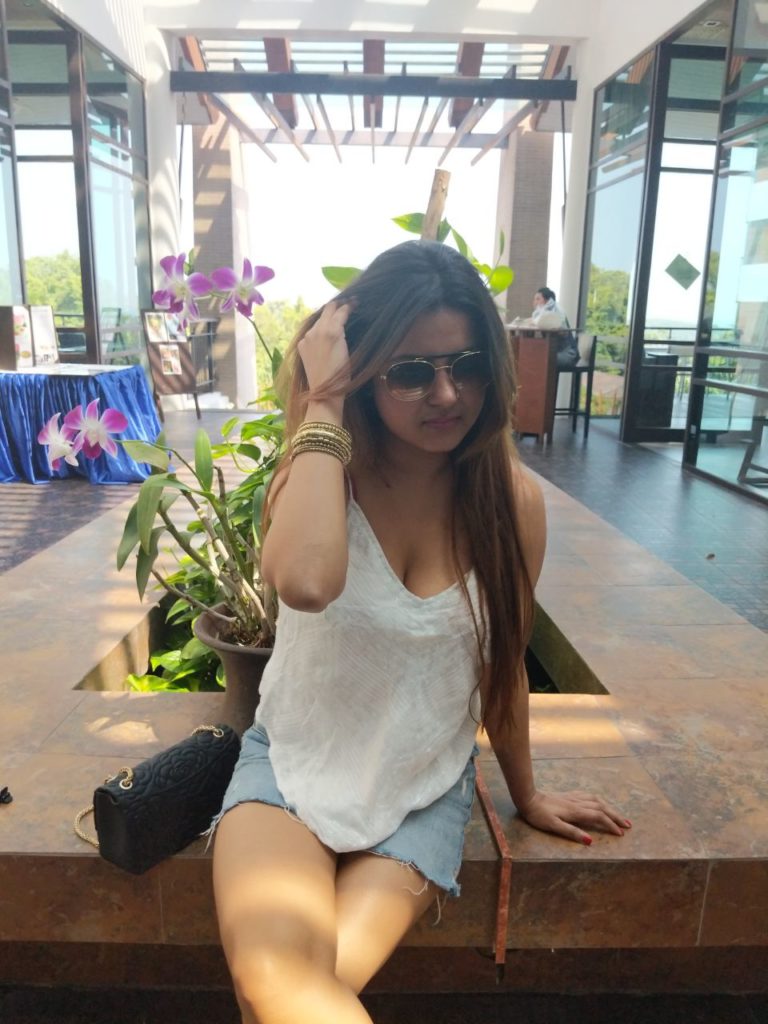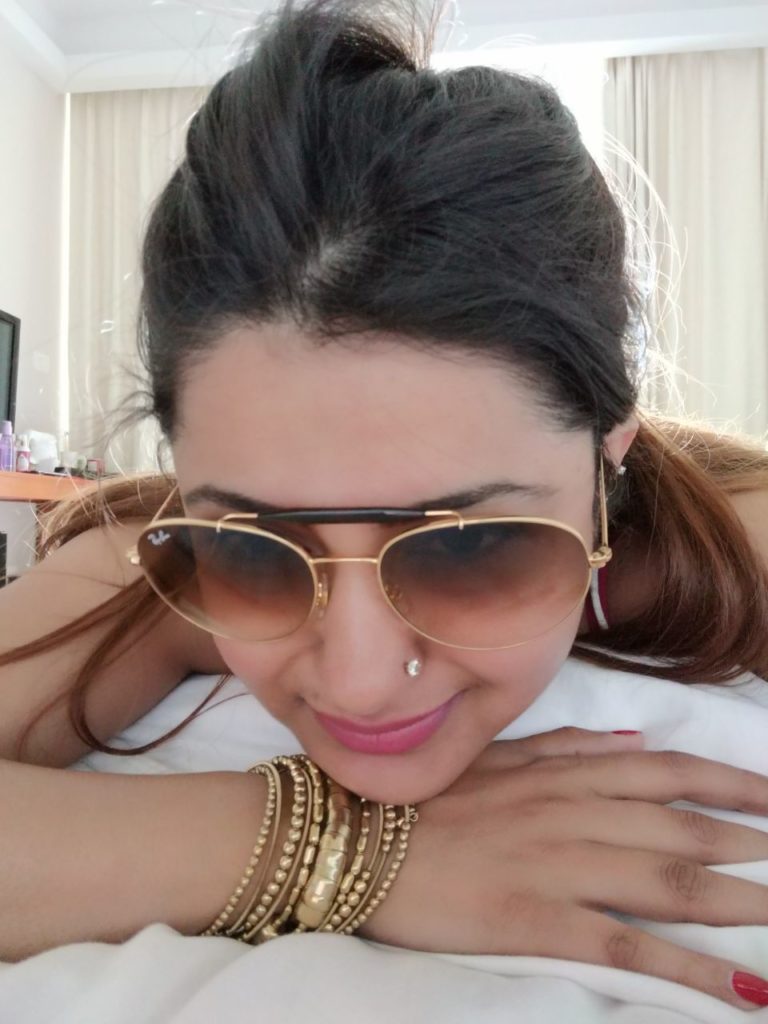 All white …. with gold spiral bangles from ayesha accesories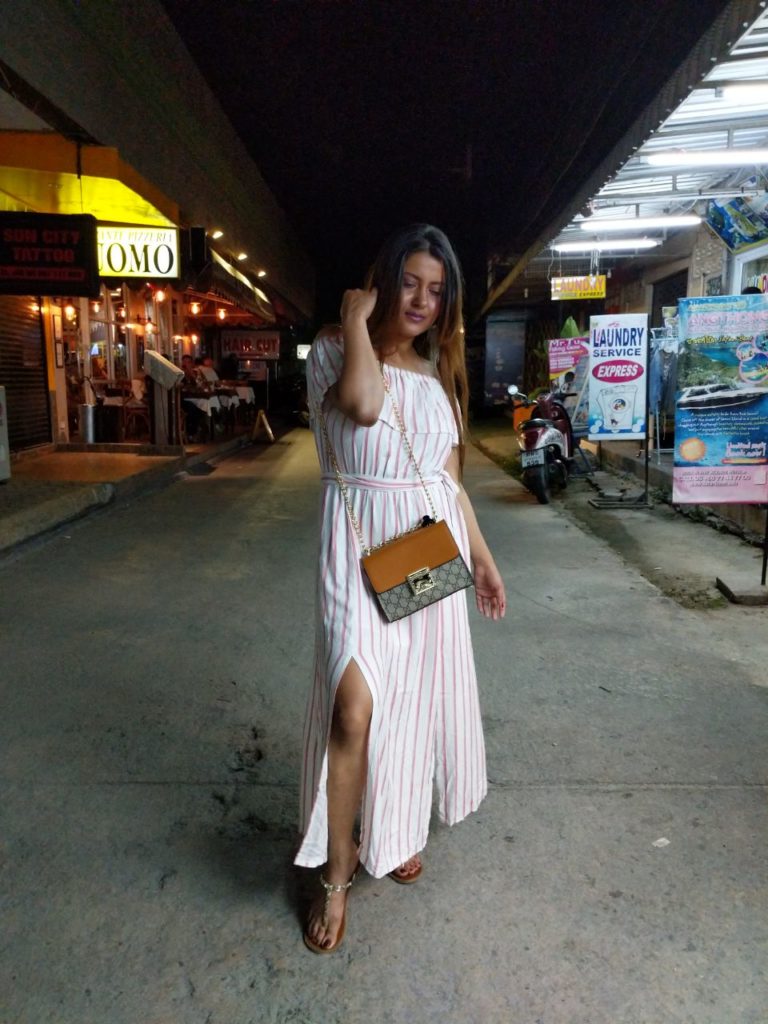 Cotton gown with double slits in the from from Forever 21 with my Gucci bag !
DAY 7: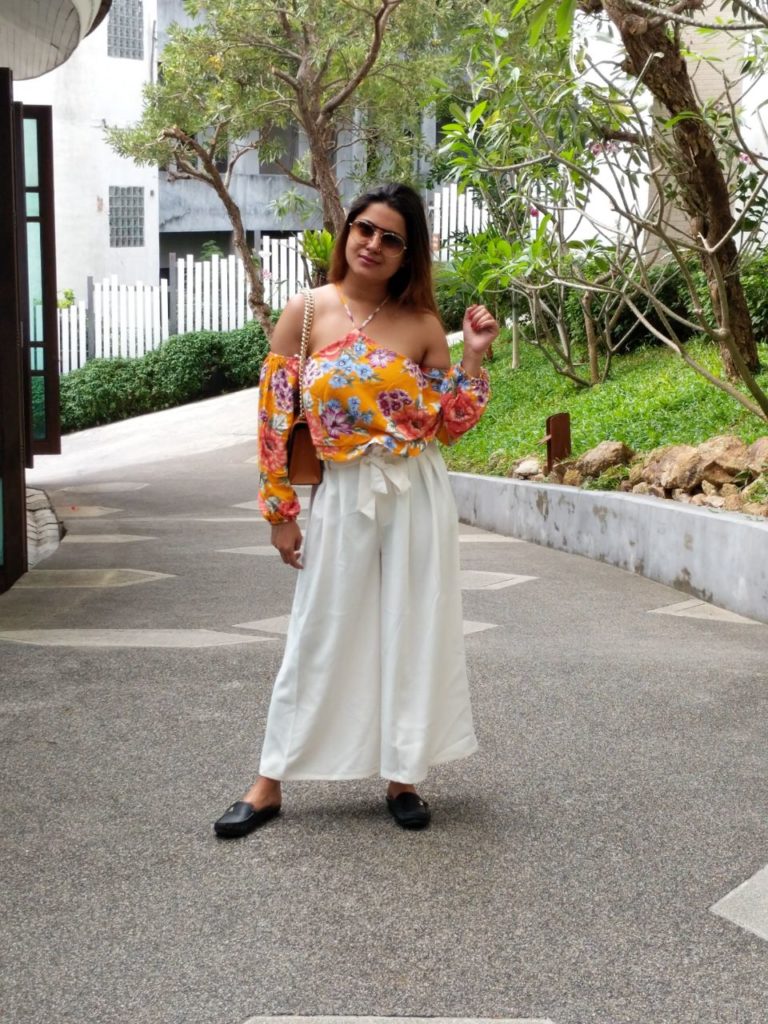 This was actually my airport look. White high wasited paperpants from Naomi code paired with cold shoulder mustard yellow floral top from Forever 21 along with my Black mules.
Hope you enjoyed watching all my looks from my koh samui trip. I hope you know now what to wear in koh samui …hehee!
before I say bye for now, a big thank you to :
 Travel partner : Skyscanner 
Clothing partner : Forever21
Jewellery partner : Ayesha accessories
Footwear : Crocs
F&B  : Fratelli Wines
Byyyyyyyyeeeeeeeeeeeeeeeeeeeeeeeee