Hey ladies,
Happy 26th day of 50 shades of lips challenge. As we enter a new day and about to complete a month very soon, I have picked up something different for day 26. This is a different product altogether Since it's not just a color for your lips but for your cheeks too. Yes I am already in love with this lipstick by LAKME for its so multipurpose. PINK PLUSH by LAKME 9 to 5 WEIGHTLESS MATTE MOUSSE is the one I will be swatching today not just on the lips but on my cheeks too!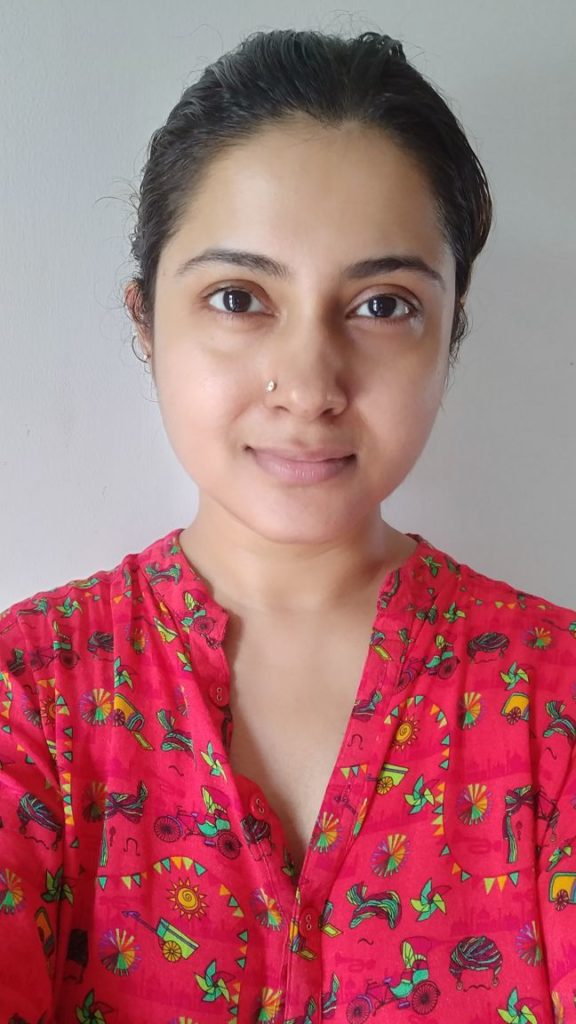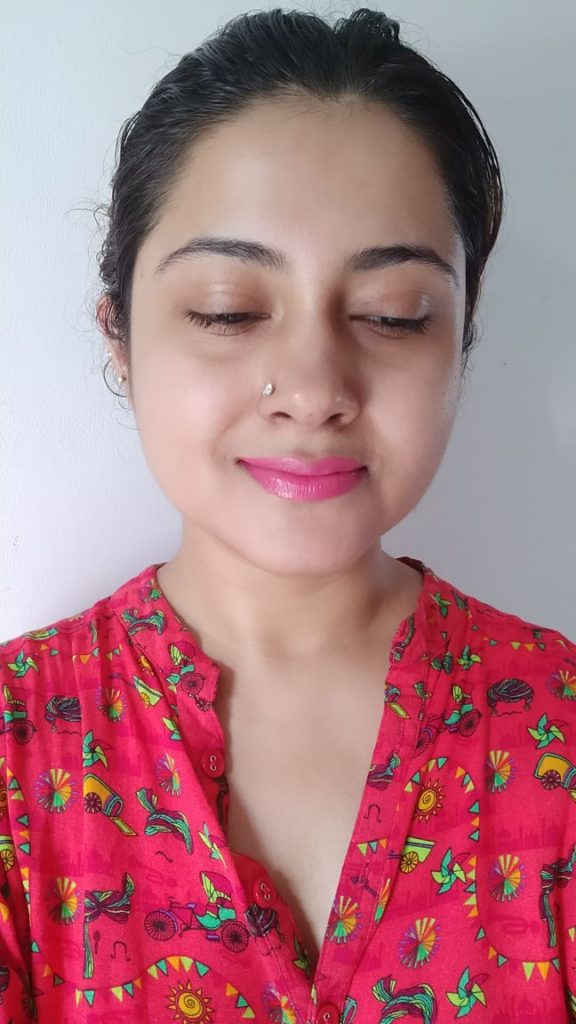 PINK PLUSH by LAKME 9 to 5 WEIGHTLESS MATTE MOUSSE Range is a peachy pink color for the lips. The color looked absolutely stunning and adds glow my no makeup face. It's not a matte but a semi matte finish which will eventually dry up and will give powdery feel to your lips. It is a super weightless lippy.
PINK PLUSH makes your lips look extremely hydrated and well moisturized provided you don't apply the lipstick on dry, chapped lips. This lipshade tends to settles in the fine lines of your lips making them look extremely cracked and uneven.
The pigmentation of PINK PLUSH by LAKME 9 to 5 WEIGHTLESS MATTE MOUSSE is impressive and this lipcolor will last for 4 to 5 hours on lips with mild snacking.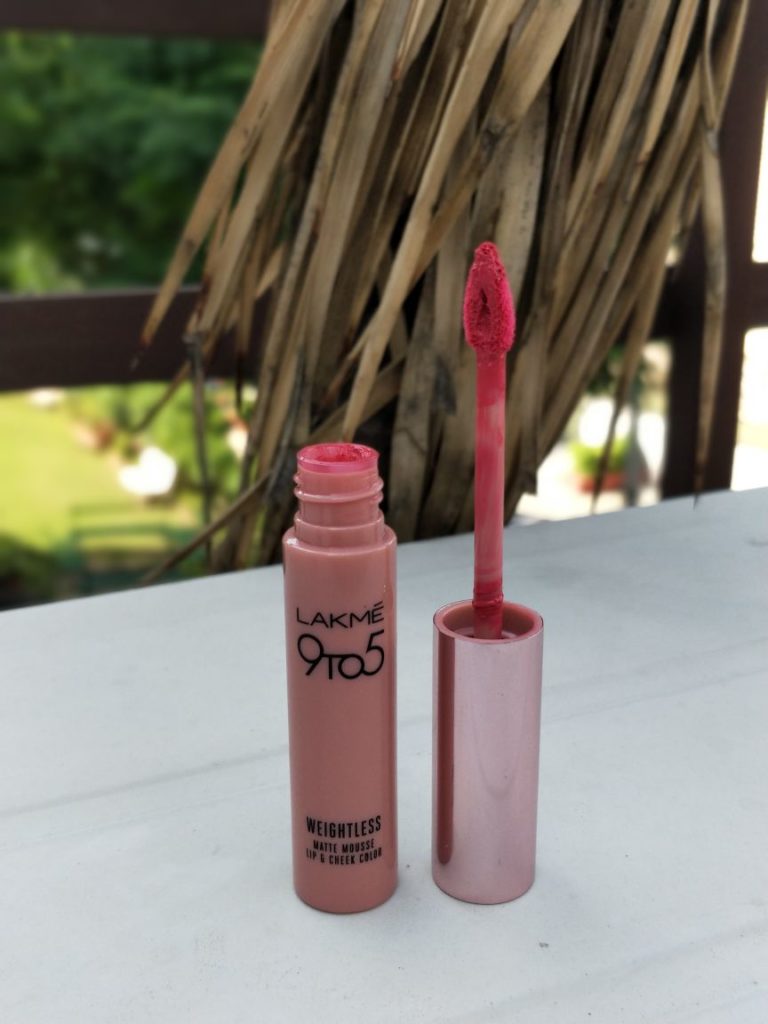 PINK PLUSH by LAKME 9 to 5 WEIGHTLESS MATTE MOUSSE is priced at 575 INR which is extremely cool since it can be used as a blush on too. The packaging is decent though I didn't understand the point of keeping a Nude color body for a shade of pink lipstick. It comes with a wand applicator which absorbs just perfect amount of lipcolor. The tip of the wand applicator is pointed therefore allowing easy filling of the corners of the lips.
LAKME has come up with 10 shades in 9 to 5 WEIGHTLESS MATTE MOUSSE with all ten good for cheeks as well as lips. Pink Plush lipstick is definitely a great shade for any time of the day, it will lift up your mood. Though this shade will be more suited for wheatish to  fairer skin tones.
As a Cheek Color : Well, PINK PLUSH by LAKME 9 to 5 WEIGHTLESS MATTE MOUSSE looks peachy on the lips but it looks perfect pink on the cheek. Though one must be careful while applying Because you don't want to look like a slapped hard face. It is non greasy, non creamy on your lips. It feels more like powdery finish which will just blend perfectly in your skin. I suggest to apply moisturizer before you go ahead with this. I must must must admit, I might just keep it always handy as its giving an absolutely stunning soft blush to my face. As a cheek color, I feel Pink plush by LAKME can be worn by any skin color at point of time.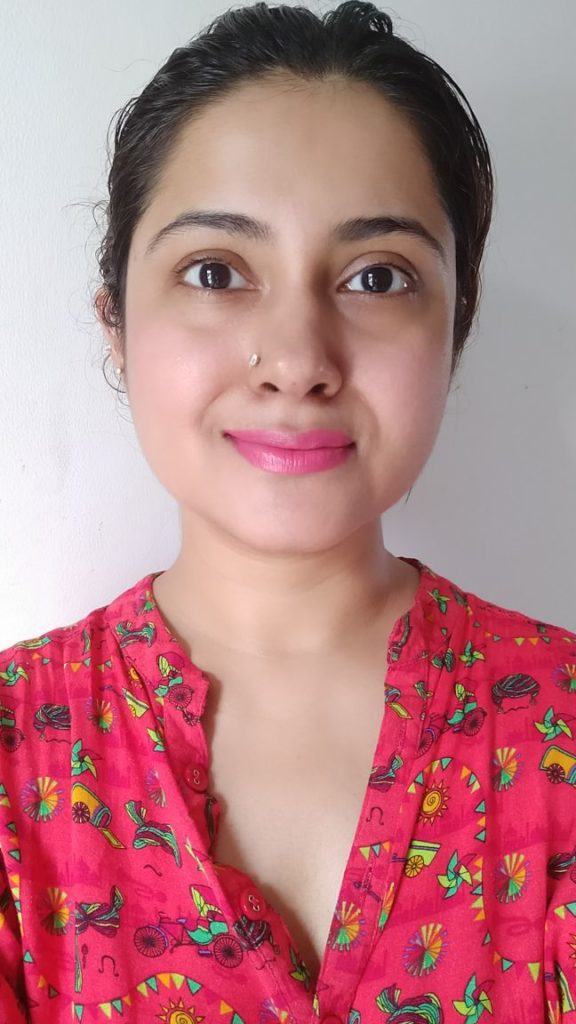 Honestly, I am way too impressed by PINK PLUSH by LAKME and at this price it's a steal so yes, you can definitely go for it without any doubt in your head.
What are your thoughts on my current favourite? Do you have any multipurpose lipstick from any other brand.
See you on day 27!