Diwali is around the corner and every year I see sudden increase in pollution during this time of the season. As much as I want my skin to remain healthy and without any pimple or spots, The skin is probably the most sensitive around this period because of excessive pollution and dust in the city. At this point of time all we want is something which is extremely soothing and therapeutic for the skin and nothing can beat Ayurvedic Products for such days ! There is something about ayurvedic products that you just feel as if you are giving nutrition to your skin. I actually came across Haldi & Tulsi facewash by VLCC Ayurveda, The moment I saw the ingredients, I knew I want to try this. Let me quickly take you through the composition ;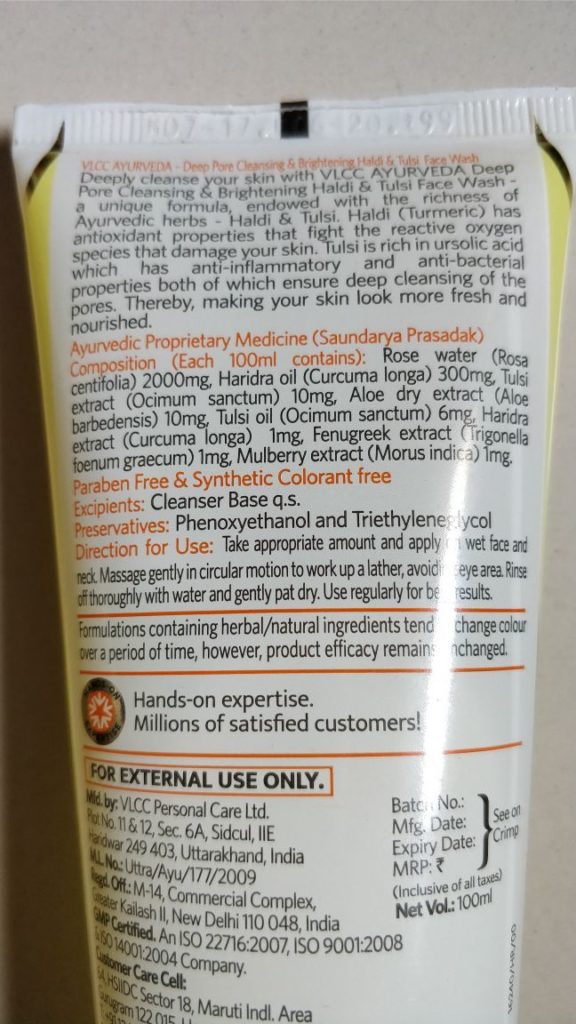 The line up of ingredients is pretty impressive. In fact Haldi & Tulsi facewash by VLCC Ayurveda is also Paraben free and there is no synthetic color added to Facewash. It also mentions that the formulation is Soap free so I am guessing that it won't lather much.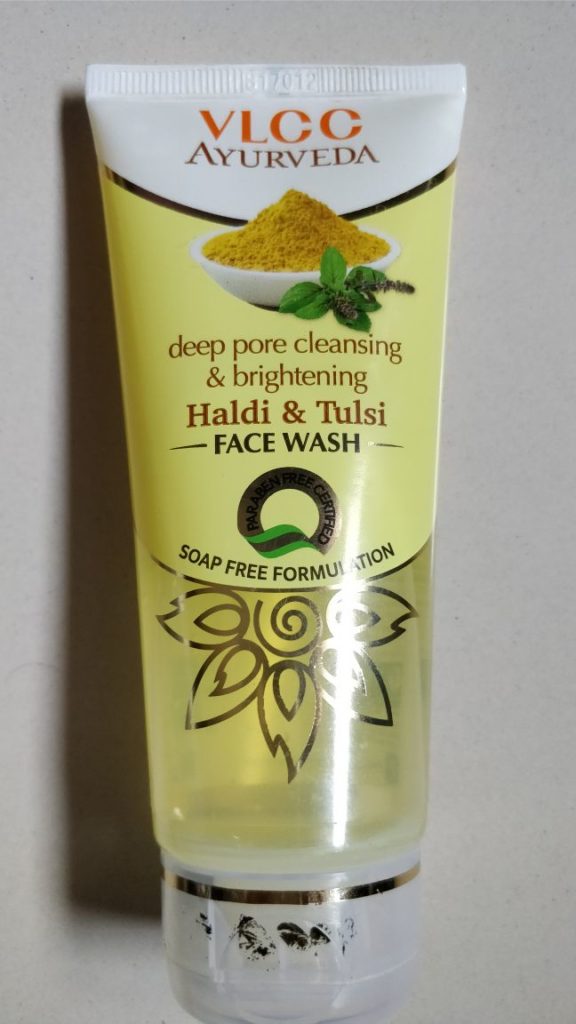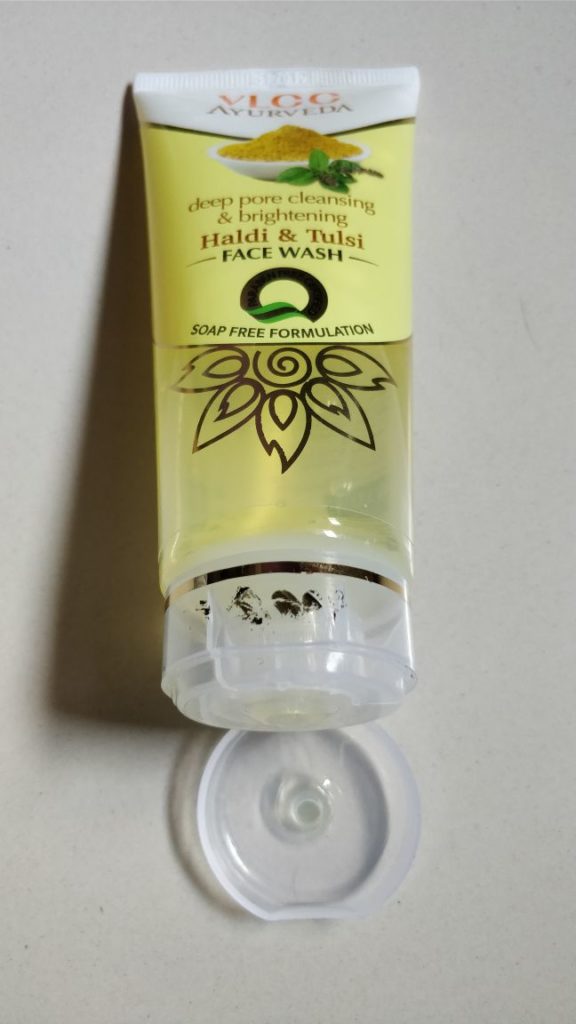 By the way, Haldi & Tulsi facewash by VLCC Ayurveda is priced at 99 INR for 100 ml with 3 years of shelf life. It is bottled in an old school Simple and sturdy way, Transparent tube with a flip open cap. The facewash has a mild fragrance of Haldi and a hint of tulsi in it.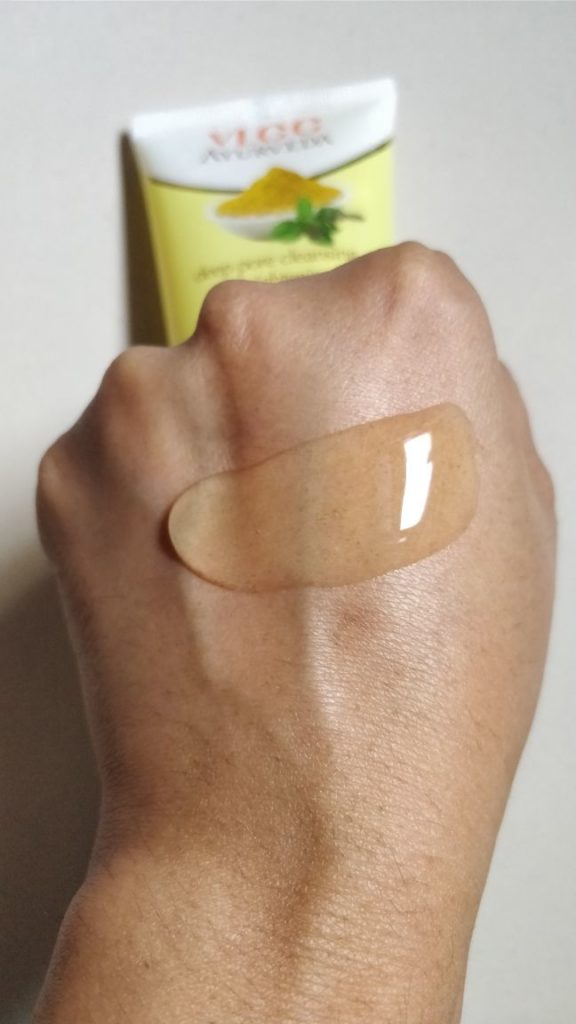 The Haldi & Tulsi facewash by VLCC Ayurveda feels gel based and is supposed to deeply cleanse your skin. Haldi and tulsi together have antioxidant properties. It is also anti inflammatory, anti bacterial which ensures deep cleansing of your pores and thereby making your skin look more fresh and nourished.
My first hand experience with Haldi & Tulsi facewash by VLCC Ayurveda: With a sensitive skin type and medium skin tone, I am worst affected by the dust and pollution. One day out in open is enough to make my skin go from good to ugly. So yes I am super particular about the products that I use and thankfully Each of the elements of this facewash has been used by me since my childhood. Be it haldi, tulsi, rose-water or even aloevera for that matter. There was a sense of trust and therefore, I could actually go ahead and use this product twice a day consistently for 5 days.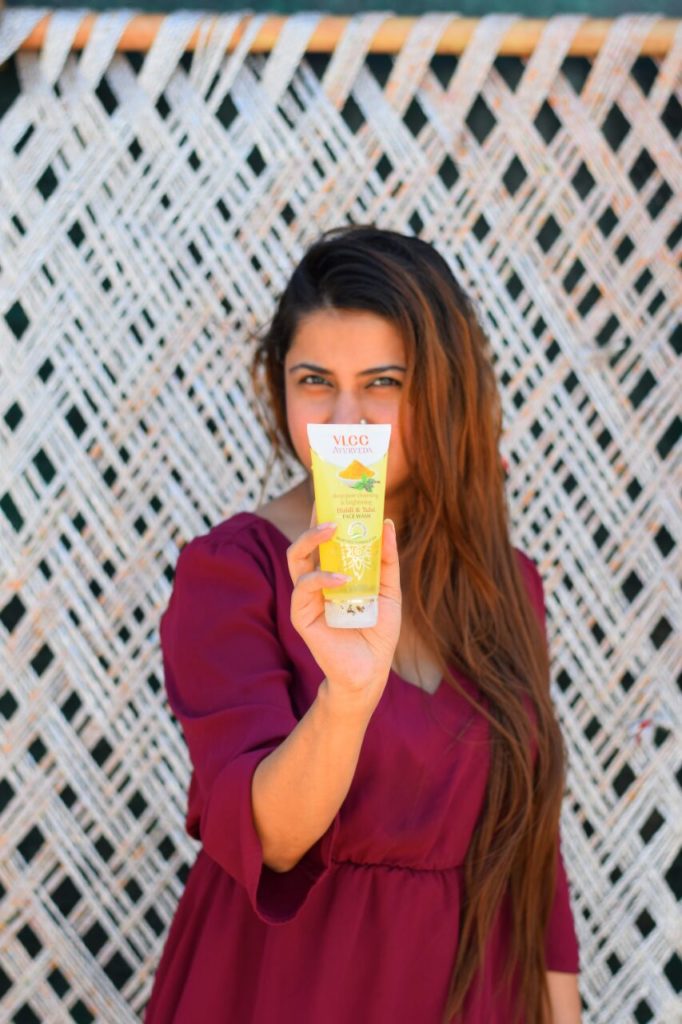 As I used Haldi & Tulsi facewash by VLCC Ayurveda over a couple of days, my skin looked and felt much cleaner, smoother and free from impurities. After a long day out in pollution, I could immediately feel a sense of deeply cleansed face with a natural glow. It is a no soap formulation so it doesn't lather up too much so my skin doesn't feel stretched after the wash. This facewash by VLCC AYURVEDA will be best suited for oily to normal/ combination skin type. In Fact those facing troubles with acne / pimples can definitely give a try to this product as it also contains anti bacterial properties.
My festival season skin is sorted, Thanks VLCC AYURVEDA. I am so sure that as long as I am using Haldi & Tulsi facewash regularly, my skin will continue to be protected from the harmful pollutants in the air.
What about you guys ? Are you ready with your weapon to fight back with pollutants …