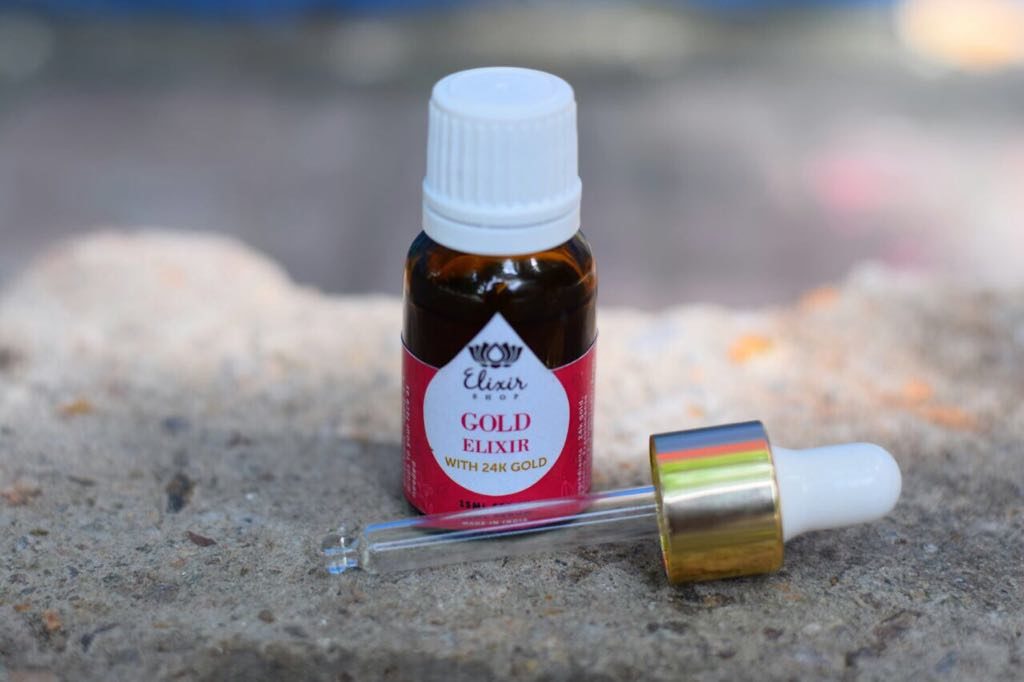 The beauty secrets of Cleopatra has always been a mystery, but Guess what I have been able to crack one the products which was a keeper for this epitome of True Beauty. It is GOLD. It has been used since years by all the queens and princesses but guess what I will be introducing you to one of my recent exploration which will make sure that you do achieve the true beauty. Gold Elixir with 24 karat Gold by Elixir Shop is your weapon and mind it, I say it will all my heart and soul together that this Facial Oil is nothing short of magic wand for your skin.
I will be quickly taking you through the ingredients of the Gold Elixir with 24 karat Gold by Elixir Shop, but the story doesn't end here. Apart from telling you how to use the Gold Elixir in a regular way, I will also be disclosing to you those secrets or hacks which I discovered as I got my hands on Gold Elixir with 24 karat Gold by Elixir Shop.  Here is the list of magical products which blend together to create Gold Elixir.
24 karat Gold, Rosehip, Rosmary, Frankincense, wheatgerm, lavender, Argan oil.
Let me tell you each of these essential oil possessing great qualities are hand blended to produce Gold Elixir facial oil which replenishes and nurtures your skin regardless of skin type, age or gender.
How to use : Gold Elixir with 24 karat Gold by Elixir Shop can be applied during day or at night. 4 to 5 drops of Gold Elixir when applied over your face and neck give you the most moisturised and beautiful skin ever. The idea of using Gold Elixir is to Glow naturally!
Me and my husband(Yes, he used it every night before going to bed), we have personally used this product over a month before I actually thought of penning down my beautiful discoveries about Gold Elixir with 24 karat Gold by Elixir Shop. It is probably the most multi tasking product I have come across lately. Below mentioned ways of Using Gold Elixir with 24 karat Gold by Elixir Shop will surprise you to the bits:
It makes up as a perfect Lip balm ever. A small drop of Gold Elixir on your clean Lips is the best thing you could do to your lips. However, if you wish to use lipstick over it just make sure that you leave the Gold elixir on lips for a minute so that it dries out. Apply your favourite Lippy now on your soft,supple and protected lips.
It can cure your under eye like they never existed. All you got to do take a drop of Gold Elixir and apply it under and over your eyes using finger tips.
Are you tired of your eyebrows going haywire… Why not use Gold Elixir to set them up. Just a hint of Gold Elixir on your eye brows can help you achieve more defined eye brow look and guess what you can later apply some powdered base eyebrow pencil.
Do you have, not-so-great looking hands and feet? I have a solution for you. Mix Vaseline in 3-4 drops of Gold Elixir and apply it on your hands and feet before you go to bed. If you have a bigger problem, like of a cracked feet, One drop of Gold Elixir each feet will serve the purpose.
Not-so-cute cuticles of your Fingers can be tamed with Gold Elixir.
Do not worry about your next beach vacation. You can go all out as Gold elixir is here to save you from Sunburnt face too. Mix  4 -5 drops of Gold Elixir with Aloe Vera and  let it rest. Regular usage of this will not only help you get rid of sunburn but will actually give you the best skin so far!
Gold Elixir is a great shield as far as your skin is concerned so yes, use it on your nicely cleansed face and apply your foundation (or any makeup) over it. Mind you, You need to use it under your makeup. Mixing up with foundation and then using will reap no benefits.
You can now skip the highlighter and actually use Gold Elixir as one! Two drops of Gold Elixir and your index finger will do the needful (provided you know where to apply the highlighter). By the way, If you make sure that you get the gold flakes from the Gold Elixir bottle, Not only the shine will be beyond your imagination but also it will stay for longer.
Didn't I tell you that Gold Elixir 24 karat Gold by Elixir Shop will leave you speechless. It is nothing less than a magical potion for your skin which can be a part of your days as well as nights. And buying it is equally easy, All you got to do is use this Link and follow the instructions!
I am so sure there are many more hidden benefits and uses of Gold Elixir which I am yet to discover, or maybe you will discover as you will incorporate it in your lifestyle. Do let me know by commenting below as your order your bottle and yes, I would love to know your first hand reaction on it.
Hope you enjoyed the read, as much as I did writing it only for you !